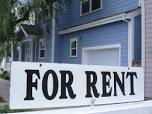 A new report from Zillow shows that rents across the U.S. are increasing, and not just in the expected regions of New York City, San Francisco and Boston. Overall, rents increased 3.3% year-over-year as of January. But many cities outpaced that, including Kansas City, which saw rent grow more than double the national average, jumping 8.5% year-over-year. St. Louis saw rent increase by 4.5% over the same period. Rents in Detroit grew by 5.0% and rents in Cleveland grew by 4.2%.
Nationwide, rental appreciation is still below its peak - 6.3% hit in September 2012 after the housing bust. According to Zillow, monthly rents have grown at roughly twice the pace of wages in the U.S. since 2000. That means Americans are having to spend a greater share of their income on rent - about 30%, versus 25% in the past. And this problem isn't likely to go away anytime soon.  Zillow surveyed a number of economists and real estate experts who all said they expected rental affordability to continue to "deteriorate for the next two years."
That will likely impact you even if you're a homeowner, since renting affordability issues tend to impact the broader housing market. Instead of becoming a stepping stone to homeownership, renting has become a barrier.
Zillow CEO Spencer Rascoff explained the rental market following the housing crisis: "All of a sudden, there were 5 million new renters and the rental stock didn't increase."
That drove rental prices up; meanwhile, home prices were busy declining. "When home values came way down and the housing crisis emerged, we went from a homeownership rate of around 69% to 63%," Rascoff said. Since the crisis, home prices have crept back up: The most recent data shows the median price of existing homes sold in January was $215,000, up from $202,000 a year ago. But many economists have deemed the pace of this recovery "sluggish."
Still, just because some experts say now is a good time to buy a home doesn't mean buying is the way to go. "The right answer is to look at how long you're going to be in the home," says Rascoff, something he calls the break-even horizon. Breaking even, according to Zillow, is when you're in your home long enough for ownership to be cheaper than renting. Nationwide, the break-even horizon is around two years - so after you're in your home for two years, ownership becomes cheaper than renting. In Miami and Detroit, it takes just one year, meaning buying looks like a good idea. However in some areas, like New York City, the break-even horizon is seven years - making renting a more appealing option.